International Moving Companies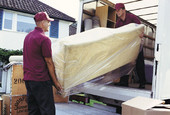 What is an International Move?
The process of moving can be a stressful experience in and of itself. Moving internationally to another country altogether throws in a whole new set of worries. Movers Directory is here to make this relocation process as smooth and seamless as possible. We carry the load for all your international moving needs.
International moving services costs to overseas locations is based on weight and (cubic) measurement of the household belongings when packed for shipment.
International moving services include air or ocean transportation charges, as well as packing and unpacking services of the carrier's origin and destination relocation agents. Most shipments will be shipped in 20′ or 40′ storage containers. International moving services do NOT include charges for storage, custom duty, servicing of appliances, liability coverage or extra pick up/delivery of personal belongings.
International moving rates are not regulated and can be very competitive.
Important Criteria to Look for in International Moving Companies
The international moving company has been in the moving service business for at least 10 years
OMNI member (Overseas Movers Network International)
OMNI member (Overseas Movers Network International)
RIM (Registered International Mover) Certification. RIM Certification is an AMSA program, and has two major objectives. First it provides customers with a standardized, independent means of differentiating and selecting a qualified moving company operating anywhere in the world. Second, the program raises the overall level of professionalism and performances of international moving companies and their personnel. To become RIM Certified you must pass an initial examination and then met RIM standards for equipment and facilities to handle international household goods shipments, verified by on-site inspections. To remain certified management and personnel, within three years, must complete a minimum of 15 hours of RIM approved continuing education and training, and the company's facilities and equipment must be subject to re-inspection every three years. To date there are over 142 moving and storage companies that have completed the initial stage of RIM program.
The international moving company is a FIDI Member – www.fidi.com
ISO 9002 Certified
International Moving Services – Shipment of Your Vehicle
If you are planning to ship your vehicle internationally, you should expect plenty of restrictions overseas. Import restrictions differ from country to country and you should research the allowances of your destination country.
Here are some things to keep in mind regarding shipping your vehicle in an international move:
Is the cost of vehicle insurance within your range?
Are you licensed to drive in your new country?
Does your vehicle meet the environmental standards required in that country?
Is the cost of shipping your vehicle within your budget?