The Ultimate Checklist for a Stress-Free Self-Move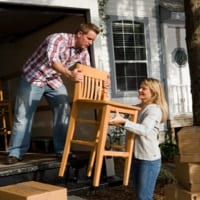 Moving is one of the most stressful things you'll ever do. Research shows only death and divorce cause more stress. But with this easy-to-follow checklist you can eliminate 99% of the hassles of a self-directed move.
A Month or More Before Your Move
____ Be strategic when packing. Choose a "packing room" ahead of time and box up a few things every day to avoid a last-minute hectic rush to get the house packed.
____ Locate free boxes or order some new ones if you want to be extra safe. Strong, corrugated cardboard is recommended. Save money by ordering your boxes in bulk ahead of time. Decide if you want specialized boxes such as "dish barrels" or long flat-frame boxes for large pieces of art or mirrors
____ Gather packing tools. You can use packing paper for almost everything. Newspaper can stain your items, so avoid it. Use bubble wrap can for fragile items. Also buy, borrow or rent box cutters, permanent markers, dollies, handcarts, and furniture covers.
____ Keep receipts for all moving expenses. In some situations, these expenses may be tax deductible.
____ Book your move with a truck rental company like Budget or U-Haul. Always remember to reserve your truck two to four weeks in advance. Nearly 45 percent of moves take place in the summer so reserve earlier if you plan to move during that time. Also, if you move during the week instead of the weekend, there will be less demand for trucks. Also, you can rent a truck for less and banks, utilities, and government offices are open.
____ Ask your strong friends to help or hire workers in advance. Hiring someone to help you move a couch out is much cheaper than injuring your back or damaging an expensive piece of furniture or appliance.
____ If you plan to drive the moving truck and also have a car without a driver, ask your rental company if they can you rent towing equipment. Don't be too proud to ask for a demonstration if you're unfamiliar with how any of the equipment works.
____ Make arrangements with a vehicle transport company if you don't want to move your car yourself. (link to car shipping site)
____ Write down any important information you'll need to access during your move. Copies of your medical/dental records and/or your pet's veterinary records may come in handy.
____ Keep a list of all valuable items as you pack. Carry the list with you on moving day to confirm that all valuables arrived safely.
____ Notify all utilities (gas, electric, oil, phone, cable, alarm company, garbage, water, sewer) to end your services at your current location based on the date you'll no longer need the services.
___ Notify all utilities to connect services at your new location and enroll school age children into new schools.
____ Notify the post office of a change of address. Return any post office box keys. If you'll have a temporary address in the new location, ask the post office in that city to hold your mail.
____ Notify any credit cards, subscription services, etc. of your new address.
____ Make sure to contact your homeowner's insurance provider to secure coverage for your new property. Get a certificate of occupancy, if your new town requires one.
____ Alert service providers (lawn care, house cleaner, pool cleaners, etc.) of your move.
____ Organize documentation, keys, or anything else you need to give to the new homeowners.
____ Return library books and pick up any items you have lent out, or dropped off for repair or cleaning.
____ Find out if your new location has parking limitations and make arrangements with local law enforcement if a permit is needed.
____ You may have to get special permissions for use of elevators, loading docks, or building access if you are moving in or out of an apartment building.
One Week Before Moving Day:
____ Make hotel reservations along your route if you have an overnight move.
____ Close accounts and empty safe deposit boxes if you need to change banks.
____ Service and repair your vehicle if you're driving a long way to your new location.
____ Confirm your truck reservation with your rental truck dealer.
____ Check the directions to your new location for any road restrictions or low bridges that could restrict the use of your rental truck.
____ Pack an "important items" (clothing, medicines, mobile device chargers, food, alarm clocks, etc.) bag or any other necessities in an easy-to-locate, clearly marked box.
The Week After Your Move
____ Notify family members and friends of your new address
____ As soon as you find new doctors, arrange to have all documents transferred.
____ Remember to return any rented equipment to avoid any extra charges.
As you can, moving involves organizing lots of details. If you read, print, and check off the items on this list, your move should go smoothly. But, always remember to stay flexible and keep a good attitude if things don't go perfectly.
Start your move on the right foot by using our quick and easy truck rental tool. You'll get FREE price quotes from multiple companies.