Long Distance Moving Companies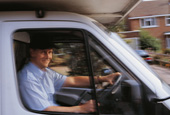 What is a Long Distance Move?
Movers Directory specializes in state-to-state long distance moving of household goods.
An interstate move is generally a move that is greater than 100-miles from the origin and/or the long distance move crosses a state line.
The cost of your long distance move is usually determined by the following factors:
Weight of your shipment & the actual distance you are moving your belongings
The number of extra moving services, such as packing & unpacking your belongings
Your choice of additional valuation for your personal items
The need for moving storage in transit while you are getting settled in your new location
Additional accessorial charges which may include things that keep the door of the truck away from the door of your new or old house such as a flight of stairs, elevators, excessive long carry, the need to use a small shuttle vehicle, etc.
Government Regulated Weigh-Station for Long Distance Moving
Long distance moving companies are not able to determine the exact weight of your shipment until it has been weighed. Government satisfied weigh-stations weigh our moving trucks before pick-up and after pick-up. The difference between those two weights is the weight of your shipment. You will be provided with official weight receipts of your shipment.
Sample Weight Estimator
Averages and approximates only. All numbers below are approximate; individual circumstances will vary.
Estimate Weight for Long Distance Moves

Type of Dwelling

Average Weight (in lbs)

Studio

1,500 lbs.

1 Bedroom
Apartment

1,500 to 2,500 lbs.

2 Bedroom
Apartment

2,500 to 4,000 lbs.

2 Bedroom
House

2,000 to 5,000 lbs.

3 Bedroom
House

6,500 to 8,500 lbs.

Larger

12,500 lbs.+