Self-Storage Guide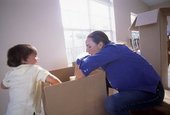 Chances are if you are relocating, during the process you might find you need to put some of your belongings in storage. And unless you're paying the moving companies extra to use their storage building, you might need to rent a self-storage unit.
Storage units are those boxy, mini-warehouse buildings that line the sides of highways nationwide. Self-storage units can prove to be a convenient way to temporary store belongings, be sure to compare rates and look through costumer reviews before choosing a storage facility. You can find a variety of different types of storage units to suit different needs right here in our database. With these helpful tips we have provided here, we can help guide you through the process.
Selecting a Self-Storage Facility
Location, location, location: an important element to consider. If you need the storage facilities on a regular basis, you might prefer them to be close to home. However, if you are making a long distance relocation and on route you need a storage, you can pick up storage facility.
Consider how much space you really need. Storage facilities rent units in all different sizes. It's best to opt for a smaller storage unit and pack it to the ceiling rather than pay for space you're not using. If even the smallest storage units are too much, look into mini-storage facilities: facilities that specialize in small loads.
Be sure to ask facility representatives how and when you can access your unit. Most storage and mini-storage facilities allow for free access 24 hours a day, but some facilities have restrictions and others charge fees for access.
Also ask about climate controlled units. If you're storing anything valuable or delicate, such as antique furniture or important documents, it could be warped by being stored in space that's too hot, too cold or too humid. For an extra cost, most public storage facilities can set you up with a unit where temperature and humidity are restricted.
Packing Up Your Self-Storage Unit
Try to use boxes that are a uniform size, they're easier to stack. Remember; keep the heavy ones on the bottom and the light ones on top when stacking them.
Leave small walkways between the boxes and furniture in your storage unit so you can easily get to the items you want without having to move anything around.
If you're storing a lot of packing boxes in your unit, try to fill the boxes all the way to the top, even if it's just with padding and old, crumpled newspapers. Boxes that are only half-filled tend to collapse if anything's placed on them.
If you're putting any metal objects into storage, like lawnmowers or file cabinets, remember they need to be cleaned and dried before they are stored. For items that are prone to rust, wipe them with a rag containing a few drops of machine oil to retard rust. Or use any thing which can eradicate the rust.
Most public storage facilities have ample security. However, it's still wise to take a few precautions of your own against theft. Pack your storage unit so that your most valuable items are at the back, and purchase a high quality padlock to put on the door.
Protect your belongings from damage. The humidity in your storage unit can cause your furniture to warp and your appliances to mildew. Leaving a space between your boxes and belongings and the unit's wall allows for air to circulate within the unit. Laying plastic sheeting on the floor and stacking boxes on top of wooden pallets can prevent condensation damage. So can using old linens or other fabrics, instead of plastic, to protect your stuff from dust. Another small tip: If you're storing a refrigerator in your unit leave the door ajar. This will prevent mold from growing inside.
Under no circumstances should you keep anything flammable or combustible in your storage building. This means no gasoline, oil, cleaning fluids or paint thinner. If you're storing any machinery that runs on gas, drain the tank before you store it. Do not store hazardous chemicals, fuel, or illegal items.
We've made it simple and easy for you to find the right storage facility. Simply check out this link to get started.