Guide to Moving With Pets: General Moving Tips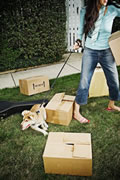 Moving Advice, Moving Activities & Moving Resources
Moving can be traumatic for humans, but it is even far worse for household pets since most of their lives are limited to the inside of our homes.
Moving is particularly worse for household pets that never venture outside, such as indoor cats. Add to that the removal of one of your pet's favorite pieces of furniture, and you have, effectively, changed his entire world.
Fortunately, there are steps you can take to make yourself and your pet's move a whole lot easier at both ends and on the road. Some moving tips from Movers Directory are listed below.
General Moving Tips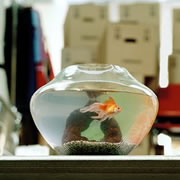 Some Helpful Moving Tips When Moving With Pets
Make certain your household pet is wearing proper identification and any required license tags in case they get lost.
Ask your veterinarian for a copy of your pet's medical history to take with you, and be sure all shots are current.
Shortly before the move, your pets may become nervous because of all the unusual activity. Keep a close eye on them; stress may cause them to misbehave or run off. Consider having them boarded during the most hectic days.
When you move, take along a health certificate and a rabies vaccination certificate. The health certificate, signed by your veterinarian, says your pet is in good condition. The rabies certificate states when and where your pet was vaccinated.
If you move across state lines, call or write the state veterinarian or State Department of Animal Husbandry for laws on the entry of animals. Some states require up-to-date rabies vaccinations. For example, the state of Hawaii requires a 120-day quarantine for dogs and cats that have just moved from another state.
After the move, give your pets time to adjust to the new neighborhood. Don't let your pets roam freely until they learn where new "home" is now — otherwise they may get lost!
If you pet has an ID implant, remember to have updated contact information.
Next Moving Tip when Moving with Pets
>> Preparing for the Move